Stummfilm um Mitternacht: Svankmajer's Alice Alice [1988] is a surrealist dark fantasy film written and directed by R: Jan Švankmajer
Czechoslovakia, Switzerland, United Kingdom, West Germany 1988, R: Jan Švankmajer, mit Kristýna Kohoutová, 86 Min
Jan Švankmajer's surreal adaptation of Lewis Carroll's classic children's book, Alice (Kristyna Kohoutova) follows her stuffed rabbit through a portal inside her dresser to be whisked away to Wonderland.
While the White Rabbit, Mad Hatter and Cheshire Cat are still present, the familiar magical world and bizarre characters have undergone an unsettling transformation in the director's vision through the stop-motion animation of dead animals, puppets and other assorted objects. One distinguishing feature of the film is is its stop motion animation which contributes to the overall dark production design.
clip:
Trio: Composer and pianist Daniel Janke (Canada) moves in the border area between contemporary music, jazz and free music.
Daniel performs in duets with François Houle; and violinist Mark Fewer; and with his own group Winter Trio [Ariel Tessier, and Basile Rahola].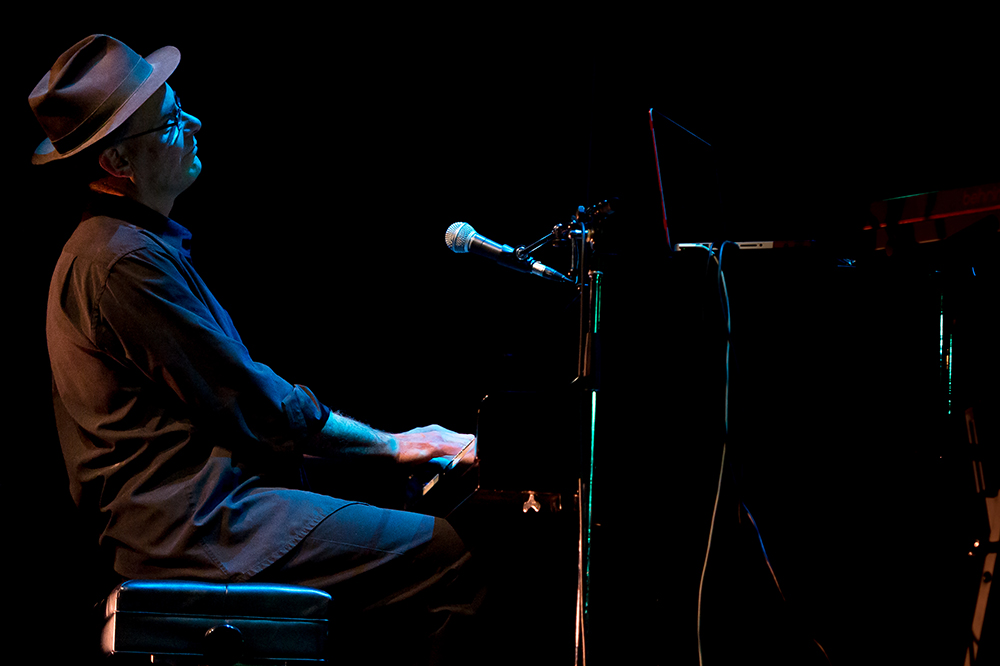 Daniel Janke has a piano style heavily influenced by his gospel upbringing, and by his work as a new music composer.
Recording releases include Body In Motion [2022, Centrediscs]; Crystalline with François Houle; and Celestial Blue [2016, Centrediscs];
Music commissions include works for the NAC Touring Ensemble, Standing Wave, Toronto Symphony, Vancouver Symphony, NEM, and Continuum Ensemble. Film scores by Daniel Janke include Mountain of Sgaana [NFB, 2016, dir. Chris Auchter]; Subconscious Password which was short-listed for an Oscar award [NFB, 2013, dir. Chris Landreth]; and Touch [2001, Rebel Films, dir. Jeremy Podeswa].
For more information visit DANIELJANKE.COM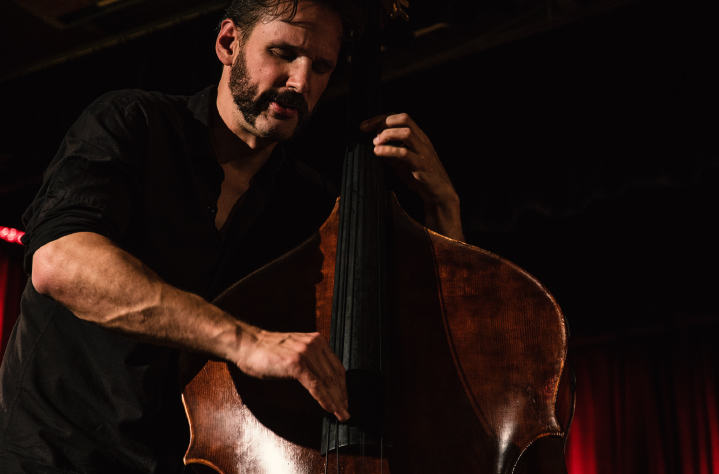 Bassist Christian Weber (Germany) performs with many ensembles including a trio with Ellery Eskelin on saxophone and Michael Griener on drums, WWW with Michel Wintsch piano/synth & Christian Wolfarth drums as well as a duo with Joke Lanz on turntables.
Since 2007 Christian Weber has been a lecturer at the universities of Lucerne, Berne and Basel. He has released numerous recordings as bandleader/coleader on HatHut/hatOLOGY, Intakt, Cut, Leo, For4Ears and other labels.
He collaborated with the likes of Han Bennink, John Butcher, Lol Coxhill, Christy Doran, Paul Dunmall, Peter Evans, Pierre Favre, Gerry Hemingway, Jason Kahn, Hans Koch, Peter Kowald, Oliver Lake, Urs Leimgruber, Rudi Mahall, Norbert Möslang, Joe Morris, Irène Schweizer, Aki Takase, Stephan Wittwer, Michael Wollny, and Otomo Yoshihide.
More information CHRISTIANWEBER.ORG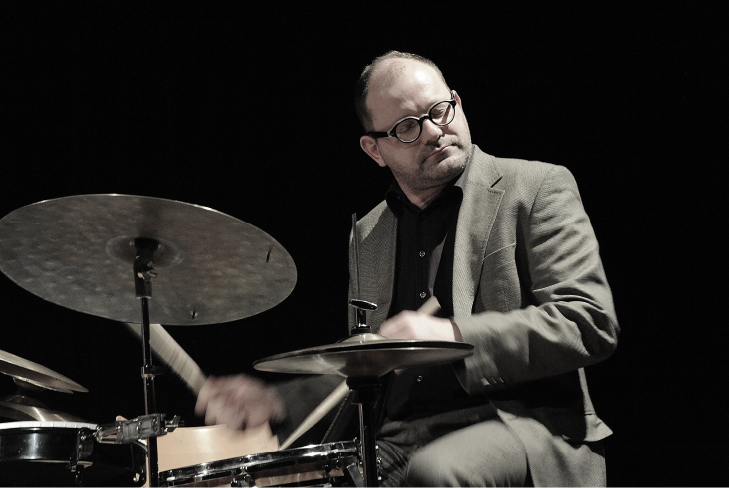 Drummer Michael Griener (Germany), is self-taught by listening to and playing with many of his elders. He spent his formative years as a teenager with bass clarinetist Rudi Mahall and began his freelance career in 1988, initially with Günter Christmann. Michael has distinguished himself as one of the most versatile drummers on the jazz scene, working with Mal Waldron, Butch Morris, Tal Farlow, Evan Parker, Aki Takase, Tony Malaby and many others.
Together with Jan Roder he forms the rhythm section of the band DIE ENTTÄUSCHUNG, and various other formations. Michael Griener moves mainly in the border area between jazz and free improvisation.
He is a lecturer at the Dresden Musikhochschule. His music has been documented on numerous CD releases, including Intakt, HatHut, FMP, Jazzwerkstatt, and Moers Music.
Visit MICHAELGRIENER.DE